In 2022:
35 years experience!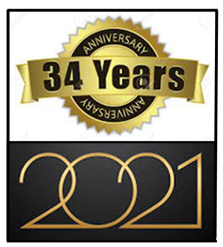 Los Angeles area lie-detector tests are only $145.
Thanks to an hour or so meeting with your examiner, you will have the truth about your private situation.

A link to directly text us is below.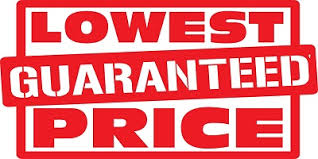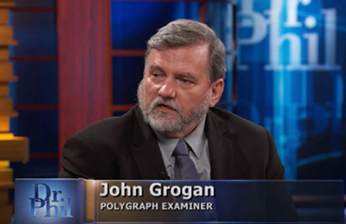 Watch this video before scheduling

a polygraph test in Los Angeles!


A polygraph test in Los Angeles:

-- allows up to 4 client questions
--follows a Federal 3-part format
--uses only Yes or No questions
--measures blood, sweat and breathing
--is $145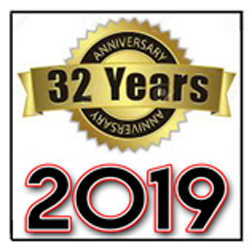 ---

Most examiners HIDE
the screen from you:

But this small video
shows you what they see!




---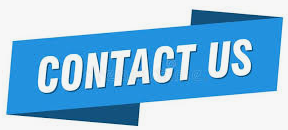 DO YOU HAVE
QUESTIONS
ABOUT A
POLYGRAPH TEST
IN LOS ANGELES?
TRY THESE:

Got a few minutes?
Click HERE
to CALL us at
818 883-6969

Faster?
Click HERE to
send us a TEXT
for instant
information
if you are on
a cell phone





Tell us WHERE
you need a test.

But keep reading too:
there are valuable
tips and facts below!
---

We posted this
many years ago: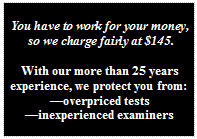 . . . and it's still true!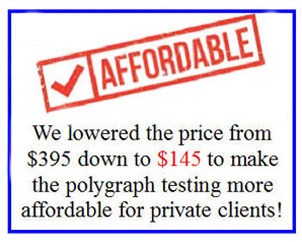 Put thought into four questions that you would like to know the true answer to. Those questions will be the focus of the examination. The examiner will surround your questions with many others, mostly 'known truth' questions such as 'Is today Monday?'.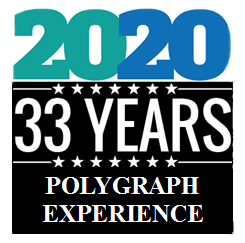 YOU get to write the questions used
in a Los Angeles polygraph examination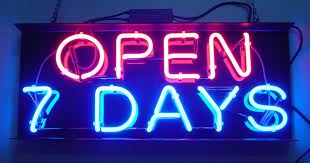 We will instruct your person to sit still, and to answer only with the word Yes or No. All questions will be discussed with the examinee before starting the exam, making sure that all can be answered with a solid Yes or No, thus eliminating shock, surprise or confusion.


---


PRICE SECRETS:





A lie-detector test in the Los Angeles area
is the same whether you pay $100 or you
pay $1000; the polygraph computer
scoring doesn't know how much you paid!

---




Polygraph test in Los Angeles
since 1988: the most experienced!




---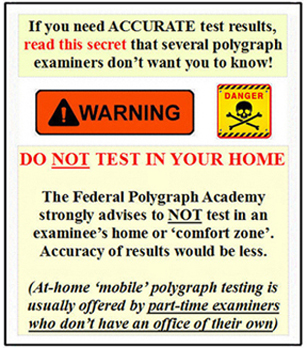 Nervousness does NOT affect the results.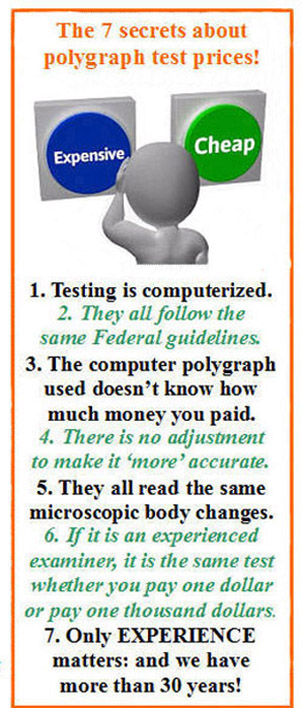 Results: If all guidelines and instructions are followed, we can expect approximately 95% accuracy. Click here:) PublicPolygraph.com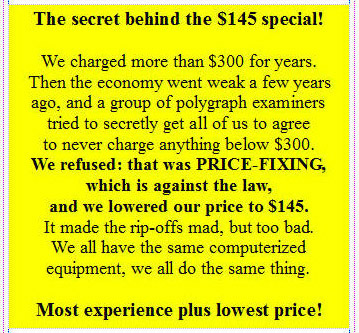 ---
---


Everyday, at least one caller asks:
'Do you mind if I watch the test?'
Here is the answer: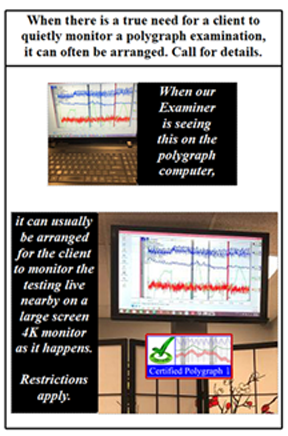 Call to discuss.



---
---

Yes, you saw us on



---
Polygraph test near me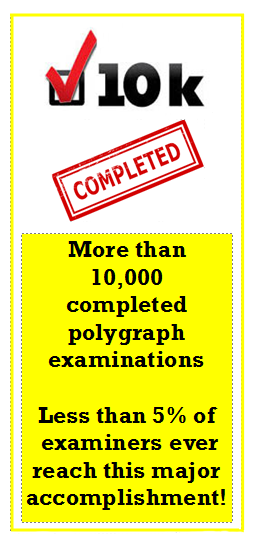 Los Angeles polygraph
tests, and nationwide,
allow a maximum of 4 questions
about the current matter


---
HERE IS A
POLYGRAPH WARNING
THAT PART-TIME
POLYGRAPH EXAMINERS
DON'T WANT YOU TO KNOW:
|


---
Write your one to four Yes or No
questions and then come for a test

---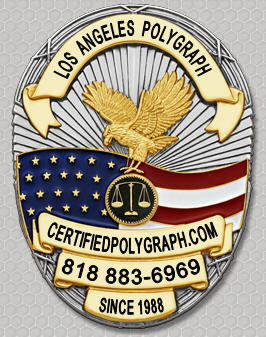 We first posted this red
block years ago, and it's
still great advice today!: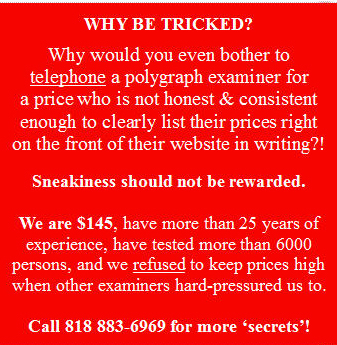 It's still great advice!